75375
NUMBER OF LAND SEARCHES TO DATE
TOTAL VALUE OF LAND SEARCHES
Step 1
Submit Land Search Request
Step 3
Receive Land Search Result via Email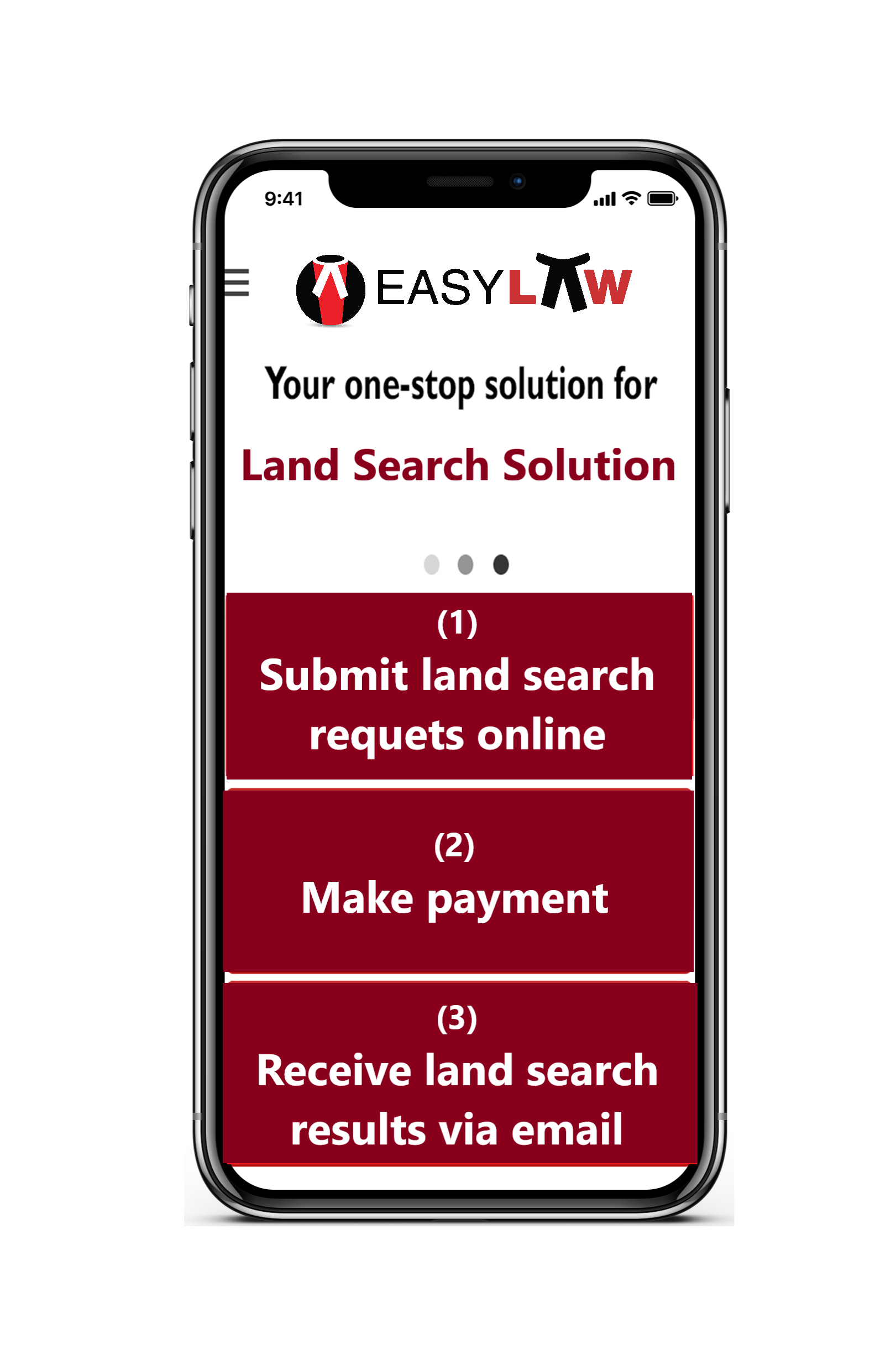 Frequently Asked Questions
Which states does your land search service cover?

We expanded our coverage to all states in Malaysia now, including Sabah & Sarawak!

How many types of Land Search services you provide?

There are 3 types of land search services we provide :
1. Private Land Search - Cheapest , Fatest & MOST RECOMMENDED
(Receive result in 2 - 4 working days subject to land office's system.)

2. Official Land Search - Land Search result certified by land office
( Receive result in 14 working days subject to land office's system.)

3. CTC Title - Photocopy of the Title certified by land office
( Receive result in more than 14 working days subject to land office's system.)

How long does it take for me to obtain the land search result?

Private Land Search : 2 - 4 working days subject to land office's system.

Official Land Search : Approximately 14 working days subject to land office's system.

CTC Title : More than 14 working days subject to land office's system.

Due to this pandemic period we aim to reduce the turnaround time but this is still subject to land office availability.

How do I receive the land search result?

You will receive the land search result via email. Additional courier and handling fees will be charged if hardcopy is requested.

How much do you charge for online land search?

We are running promotion now. During this promotion period, our service charge is as low as RM20 per search. Check out the price in the pricing table below.

How do I make payment?

We accept the following payment method:

1. Online Banking

2. Paypal / Credit Card

3. Bank Transfer / ATM
Please kindly email the bank-in slip to hello@easylaw.com.my for verification purpose.

Click here to reload

What are the details I need to submit online land search?

You need Title Type, Title Number, Lot Number, Bandar/Pekan/Mukim and State. The abovementioned details can be found on the Original Title and the Sales and Purchase Agreement. If you are unsure, please contact our Customer Service Representative.

NOTE: Postal address of the property is not sufficient information for us to conduct land search.

What is your Privacy Policy

You can refer our Privacy Policy here

If I want to submit land searches in bulk, do I get extra discount?

Yes of course!

Submit your bulk order request HERE for quotation.

| Number of Land Search | Discount |
| --- | --- |
| 15 - 20 | 10% off of our service charge |
| 21 - 30 | 20% off of our service charge |
| 31 - 40 | 30% off of our service charge |
| > 41 | Call us to know more! |

Terms & Conditions:

1. Must submit all land searches at the same time.

2. All land searches must be in the same state.

3. The credits are strictly not exchangeable for cash.

4. Offer may not be combined with any other sale, promotion, discount, code, coupon and/or offer.

5. Promotions have no cash value. Offer cannot be sold or otherwise bartered.

6. EasyLaw reserves the right to amend any of the above terms and conditions and charges without prior notice.

Submit your bulk order request HERE for quotation. You may call us at 0196176178. Thank you.

Do you have more than 100 land searches at the same time?

Contact us now for Project Base Rate!
Outstation (Different State)
| | |
| --- | --- |
| EasyLaw Charges | RM80 RM70 |
| Land Office Charges / Disbursement* | RM30* |
| Total Payable Charges* | RM100 |
Local (Same State except Selangor)
| | |
| --- | --- |
| EasyLaw Charges | RM20 |
| Land Office Charges / Disbursement* | RM30* |
| Total Payable Charges* | RM50 |
Remarks:
Due to the MCO period, Selangor land offices are having a new SOP. We will have to comply with every rule and regulation. We will have to increase the price for the LOCAL Selangor land search to RM30 (Effective since 19th June 2020).
Land Office Charges will be subject to the official land office charges at each state. Click HERE to view more.
The above total payable charges are inclusive of travel expenses.
Local Land Search refers to the Same State Land Search.
Outstation Land Search refers to the Different State Land Search.
The prices above are not inclusive of extra charges for extended local. Click HERE for more details.
The above charges are not inclusive of SST. Please refer to our land search form for the final charges.
Testimonials
What Others Say
Forget about manual calculation on legal fees and stamp duty. Now I can calculate my client's legal fees & stamp duty easily. I can even save & share the results with clients instantly. Save time for me!.

Ms. Lim(32)Conveyancing Lawyer , PJ

I used to have Rules of Court 2012 hardcopy in my suitcase every time at KL High Court. Well, I don't need to bring the heavy statutes with me now. I can just access it from my handphone.

Kevin(29) Litigation Lawyer , KL

RPGT calculation can be quite complicated and confusing when I am calculating my client's and my own investment. Easylaw solves this for me. Thanks for your innovation!

Brandon(35) Property Agent cum Investor, JB




Received land search in a short time. This is the Best service.

Vaasnthi




Thank you so much for the quick respond! Great services! Appreciate and thank you.

Ming Yuan




Great support and respond. Trusted company. Good job.

YK Tan