We are the No. 1 Legal App in Malaysia.
Download the FREE App Now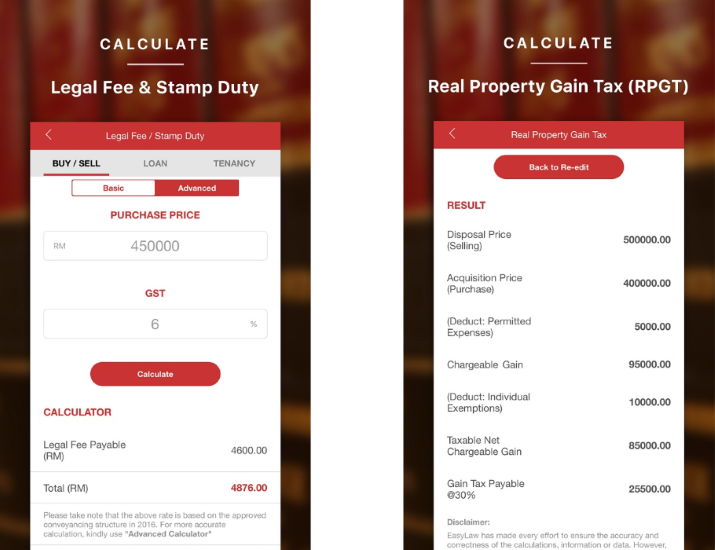 OUR SMART TOOLS helps lawyers, legal clerks, property investors & agents to calculate:
Legal Fee/ Stamp Duty for Sale & Purchase Agreement & Loan Agreement - In compliance with Budget 2019, SRAO 2016 & the latest in force SRAO 2017
Legal Fee/ Stamp Duty for Tenancy Agreement
Real Property Gain Tax (RPGT)
Mortgage Loan Payments
Late Payment/Delivery Interest
Balance Purchase Price
Apportionment of Outgoings (Coming soon)
BONUS : You can save, retrieve & share the calculation result easily.
EXTRA FEATURES FOR PUBLIC : Directory of Commissioner for Oaths
EXTRA FEATURES FOR LAWYERS : Free access to 10 important Malaysia's Statutes anywhere.
Companies Act 2016
Civil Law Act 1956
Contracts Act 1950
Courts of Judicature Act 1964
Criminal Procedure Code
Evidence Act 1950
Law Reform (Marriage and Divorce) Act 1976
Penal Code
Rules of Court 2012
Specific Relief Act 1950
Will Act 1959
EASILY SEARCH FOR INFO : In Acts of Malaysia
With our powerful search button, you can search info easier & faster.
MOST SUITABLE APP FOR : Lawyers, legal clerks, property investors, property agents.
Download EasyLaw App Now
Only FREE for a Limited Time

Solicitors' Remuneration (Amendment) Order 2017 comes into force on 15/3/2017.
Download SRAO 2017 Here